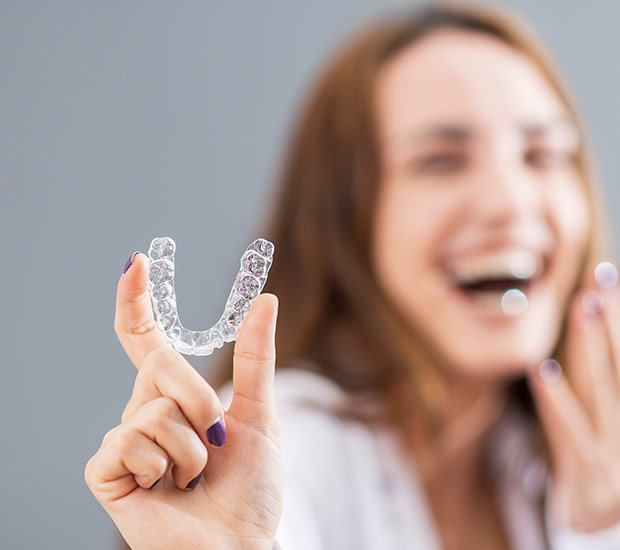 Invisalign
Lawndale, CA
Invisalign® is an alternative to conventional braces. This orthodontic treatment straightens teeth without the use of brackets or wires. It is a great option for people who want a straighter smile without the disruption of a visible orthodontic device.
We provide Invisalign at Hawthorne Orthodontics in Lawndale and the surrounding area. Our orthodontist and team can handle all of your orthodontic needs. Call us today at 310-921-8333 to learn more about our services or schedule an appointment.
Understanding Invisalign
Invisalign treatment involves wearing a series of clear, removable aligners. These aligners are customized trays that consist of flexible patented SmartTrack material that comfortably and predictably guides teeth into position. This plastic material is FDA-approved and contains no BPA, BPS, latex, or gluten.
Invisalign aligners are thin, virtually invisible, and are customized to fit snugly over teeth. These solid plastic trays apply pressure to specific parts of teeth to gradually move them into position. Although they are a solid piece of plastic, Invisalign aligners are still considered a type of braces since they actively align teeth to shape the mouth and jaw.
Invisalign Candidacy
Invisalign can treat patients of varying ages. However, teenagers and adults most commonly receive this orthodontic treatment. Not everyone is an ideal candidate, so people should speak with our orthodontist to see if they qualify for Invisalign. Invisalign is a good treatment option for people with crooked or crowded teeth, gaps between teeth, open bites, overbites, and underbites.
While Invisalign can correct many orthodontic issues, it has certain limitations. Certain tooth shapes and positions, large gaps between teeth, large overbites, intrusion, and extrusion may prevent a person from receiving Invisalign treatment. People must also have gum disease or cavities treated before Invisalign. Dental implants, bridges, or TMJ issues may also make Invisalign treatment more difficult but are not absolute disqualifiers. Invisalign also requires patient commitment to wear, clean, and keep track of their aligners. Patients who do not feel like they can commit to wearing their aligners for the necessary length are probably not good candidates for Invisalign.
Invisalign Benefits
Invisalign straightens teeth, which lowers the risk of gum disease and improves bite function and overall dental health. A 2018 study found that Invisalign is a alternative to conventional orthodontic therapy to treat mild to moderate malocclusions in non-growing patients that do not require extraction. The benefits of Invisalign extend beyond a healthy and more attractive smile. This treatment's clear and removable nature offers many everyday benefits to patients who want a less visible way to straighten their teeth.
Invisalign aligners are completely clear, so they are especially great for people who do not want brackets and wires detracting from their faces or smiles. The treatment process is also safe and comfortable since the trays are custom made to fit teeth without any sharp or extruding wires. They are also removable so patients can remove them before brushing, flossing, and eating.
Invisalign Treatment Process
To receive Invisalign, people will have a consultation so our orthodontist can evaluate their mouth and discuss their treatment goals. We will create a precise, customized digital treatment plan that shows the steps to transform their smile during this appointment. The Invisalign manufacturer will create the unique, custom-fit aligners once the treatment plan is approved.
The treatment process involves wearing a series of aligner trays the patient replaces every one to two weeks. Each replacement tray is slightly different to shift teeth into position gradually. Patients need to wear their aligners for at least 20 to 22 hours a day to get the desired results.
Maintenance During Invisalign Treatment
Proper maintenance of aligners will help the treatment process go smoothly and ensure optimal results. Patients should make sure to properly insert and remove the trays to keep the aligners in good condition and well-positioned in the mouth. Oral hygiene and care methods are also vital to properly maintaining aligners.
Patients should always remove their aligners before eating or drinking anything other than water. We also recommend brushing and flossing after eating to keep the trays free from debris. Aligners also require regular cleaning to eliminate bacteria. Patients can choose to clean their aligners with the Invisalign Cleaning System or brush them with a toothbrush and toothpaste before rinsing them in lukewarm water.
Call Us Today
If you want a discreet way to get a straighter, more beautiful smile, Invisalign may be the right treatment for you. Our team at Hawthorne Orthodontics can help. Call us today at 310-921-8333 to learn more about our services or schedule an appointment.
Frequently Asked Questions
How much does Invisalign cost?
The cost of Invisalign will vary for each person. Factors contribute to the cost, including the patient's oral health, the extent of treatment, and the insurance plan. People interested in Invisalign should contact their insurance provider for more information about coverage before seeking treatment.
What happens if I do not wear Invisalign long enough?
When patients leave out their aligners for too long, the teeth will begin to move back into their original position. If aligners are left out long enough, they may be very uncomfortable or may not fit at all. Forgetting to wear aligners for an extended length of time can have more serious consequences, such as prolonged treatment.
Is Invisalign treatment painful?
Since Invisalign treatment works by moving teeth by applying pressure to teeth, it is normal to feel temporary discomfort. This feeling will only last for the first few days of wearing a new set of aligners. This feeling of pressure is a sign that the aligners are working.
What happens after I finish Invisalign treatment?
After Invisalign treatment, most people will receive a retainer. Retainers are important devices that prevent teeth from shifting back into the original position. Every patient is different, so it is important to speak to our orthodontist.
How long do I need to wear Invisalign for?
The length of treatment will differ for each patient and depends on various factors. The case complexity and the patient's commitment to wearing their aligners will affect treatment length. On average, Invisalign treatment length is 12 to 18 months.
Recent Posts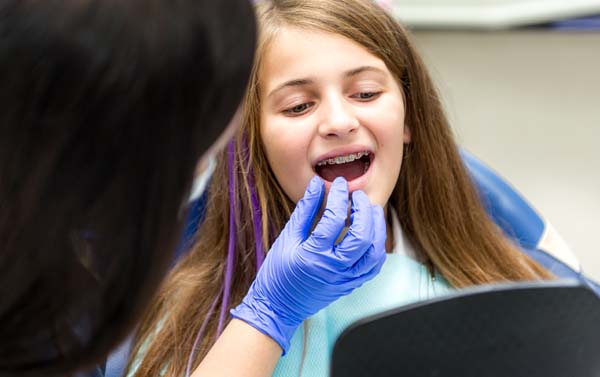 A pediatric dentist works with your child to treat their condition and teach them the importance of oral health from a young age. Misalignment and malocclusions are quite common in children and adolescents as their teeth develop. There are several reasons a child might require braces. Treating these conditions early on can help guide their…