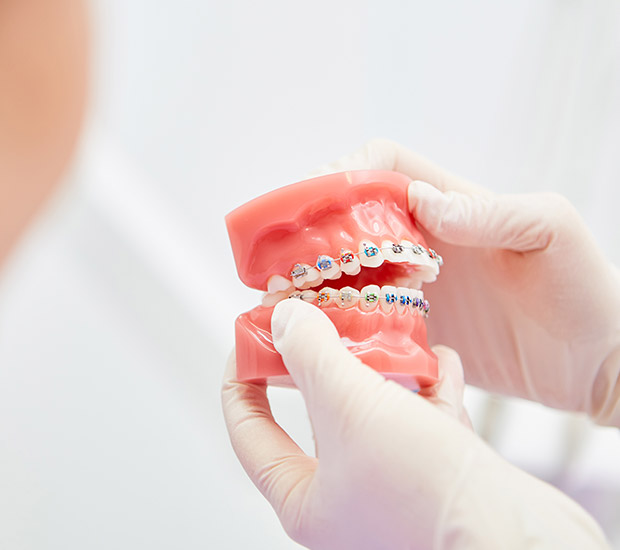 Braces-Specialist
Lawndale, CA
People with crowded, crooked, or misaligned teeth can benefit from treatment from a braces specialist. These specialists have the training and experience to give patients straighter and healthier smiles. Depending on the patient's goals and needs, braces specialists can determine the right treatment plan to improve the look and function of teeth.
If you are interested in improving your smile, a braces specialist can help. Braces are available at Hawthorne Orthodontics in Lawndale and the surrounding area. Call us at 310-921-8333 to learn more about our services or schedule an appointment.
What a Braces Specialist Does
A braces specialist receives further training and education to specialize in diagnosing and treating teeth and jaw misalignments. They also have experience with the latest research, technology, and orthodontic techniques. Extensive practice diagnosing and treating oral health conditions qualifies these specialists to install braces and diagnose orthodontic issues.
Braces straighten and move teeth to improve how they look and function. They work by applying pressure to teeth and gradually moving them in the right direction over time. As the pressure moves teeth, the bones in jaws change and allow the teeth and roots to move. People interested in receiving orthodontic treatment should see a braces specialist to achieve optimal results.
Who Should Visit a Braces Specialist
Abnormal alignment of teeth and jaws is a very common problem. According to the American Association of Orthodontics, an estimated 50 to 75% of people can benefit from orthodontic treatment. People with overbites, misaligned teeth and jaws, and overcrowded mouths can benefit from seeing a braces specialist. These specialists provide braces to correct the arrangement of teeth, straighten them, correct the bite, and close any gaps.
Most orthodontic treatments can occur at any age. The American Association of Orthodontics also reports that one out of three orthodontic patients are adults, and an estimated 3.9 million children receive orthodontic treatment in the United States.
Braces Specialist Services
There are many different types of braces available today. Common types of braces include traditional metal braces, ceramic or clear braces, and clear aligners. While there are different braces types, the mechanical process of moving teeth remains the same. Traditional metal braces consist of metal brackets glued to teeth and connected to metal archwires by elastic bands.
Clear braces and aligners are popular braces options due to their less noticeable appearance. Ceramic braces use archwires and brackets that are either clear or tooth-colored. Clear aligners are flexible, plastic clear trays that fit tightly over teeth to move them without wires or metal. Our team will discuss the various types of braces with patients and determine which option is best for their goals and needs.
What To Expect During A Consultation with a Braces Specialist
The initial consultation with a braces specialist is an essential first step towards improving a smile. It is an opportunity for people to go over their smile concerns, find out what the problem is, and learn about possible treatment options. We will examine the patient's teeth and take X-rays to gather information, which will allow us to figure out the best treatment plan.
Patients should also prepare questions and concerns so the braces specialist can address them during this first appointment. Some common questions include inquiries about the treatment length, possible results, and braces maintenance. We believe that actively involving patients in discussing their available teeth straightening treatment options results in each patient's best decision.
Treatment Duration
No matter the treatment option, braces specialists will want to see patients regularly. These appointments allow us to make sure that the treatment process is progressing as planned. We can also make any adjustments to the appliance as necessary. It is common to visit a braces specialist about every four to eight weeks during active treatment.
The longer the patient receives treatment, the more visits they will have. Orthodontic treatment length will vary for everyone as each patient responds differently. Treatment duration will depend on several factors, such as the patient's age, the severity of their malocclusion, and their compliance during treatment. The adjustment process is gradual to avoid damaging the support structure of the teeth.
Call Us Today
Braces specialists provide treatments to help patients achieve the smiles they have always wanted. Our orthodontist and team has the experience and training to help. Contact us at 310-921-8333 to learn about our services or schedule an appointment.
Frequently Asked Questions
Are braces safe?
Braces are a generally safe treatment, but there are some risks. Tooth decay, gum disease, and permanent stains on teeth can occur without the proper removal of trapped food or debris. There is also the risk of soft tissue injuries of the inner cheeks, lips, and gums from brackets or wires. However, proper care and maintenance can help patients avoid such risks.
How does a braces specialist determine which type of braces they will recommend?
The type of braces that we will recommend depends on several factors. Factors such as the patient's age and whether they have an overbite in addition to having crooked teeth can affect our recommendation. Our team customizes braces, and unique treatment plans to the needs of each person.
How effective are braces?
Generally, braces are very effective in realigning crooked teeth and correcting misaligned jaws to create attractive and healthy smiles. However, braces' success rates will also vary depending on the patient's age at the beginning of treatment and their treatment goals. Effectiveness also depends on the person and their ability to follow our instructions carefully.
How often should I brush my teeth while wearing braces?
Maintaining a good oral hygiene routine is a crucial part of taking care of braces. Besides brushing teeth twice a day and flossing at least once, we also recommend brushing after every meal and snack. Patients should take care to brush each tooth at the gumline and below the brackets to minimize plaque between the teeth and braces.
Do braces hurt?
Patients should not experience any pain during braces installation. In the days after initial placement and during and after adjustment, it is normal to experience some discomfort. This uncomfortable feeling is temporary, but people can help minimize pain with over-the-counter pain medication.
Recent Posts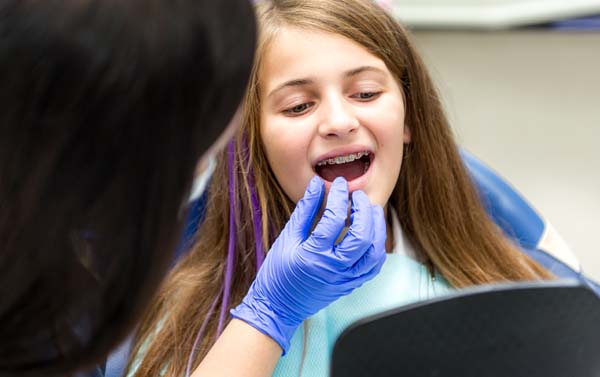 A pediatric dentist works with your child to treat their condition and teach them the importance of oral health from a young age. Misalignment and malocclusions are quite common in children and adolescents as their teeth develop. There are several reasons a child might require braces. Treating these conditions early on can help guide their…