Adult Orthodontics
Lawndale, CA
Adults orthodontics can help people achieve healthy and straight teeth later on in life. Adults can choose from various treatments to enhance the appearance and function of their teeth. Regardless of age, orthodontic treatment can create a better bite and decrease the risk of future dental problems.
It is not too late to receive orthodontics as an adult. As an orthodontist, we provide adult orthodontics at Hawthorne Orthodontics in Lawndale and the surrounding area. Call us today at 310-921-8333 to learn more about our services or schedule an appointment.
Reasons to Get Orthodontic Treatment As An Adult
Crooked and misaligned teeth in adults can have adverse psychological and physical effects. Adults can seek treatment to relieve chewing problems, pain, and various oral health complications. Without treatment, crooked and misaligned teeth can contribute to tooth decay, plaque development, and gum loss. Some severe misalignment cases are so extreme that they can cause headaches, jaw pain, and even difficulty swallowing.
Crooked teeth can also cause psychological discomfort since some people may feel self-conscious about the appearance of their smile. It can affect people's confidence and subsequent approach to life and different opportunities. As a result, many adults are opting to receive orthodontic treatment. According to the American Association of Orthodontics, one in four orthodontic patients is an adult.
Choosing the Right Orthodontic Treatment
Adults who are interested in orthodontic treatment will typically fall into one of two categories. They have either had previous orthodontic treatment or are seeking treatment for the first time. Every patient is different, so it is important to have a consultation to understand the options available and determine the best treatment course.
The right treatment will depend on the patient's orthodontic problem. Possible orthodontic options may include traditional metal braces or less visible options such as clear aligners or ceramic braces. Our team will recommend the right appliance and treatment plan for each patient's unique needs.
Considerations for Adults Who Want Braces
Although orthodontic treatment can correct many orthodontic problems as easily for adults as for children or teens, there are certain considerations that adults should keep in mind before seeking treatment. The first factors affecting adult orthodontics are age-related concerns, such as insufficient bone between the roots for adequate blood supply, mild gingivitis infections, and marginal bone loss.
Adults with one or more extracted teeth can face potential problems if the extraction sites are not suitable for other teeth. In such cases, it may be necessary to restore the area before orthodontic treatment. Adult patients also have a greater risk of developing a temporomandibular disorder (TMD) during conventional orthodontic treatment. Our team will carefully assess each patient's risks before recommending the appropriate treatment.
Adult Vs. Children Braces
Regardless of age, orthodontic treatment involves placing gentle, controlled forces on teeth to move them into alignment. While childhood is an ideal time to get orthodontic treatment, more adults than ever are choosing orthodontic treatment and achieving their desired results. However, some key differences can affect the treatment process.
A significant difference in orthodontic treatment for adults as opposed to children is their bone maturity and density. Children's bones are more malleable, making it easier to move teeth into alignment. Additionally, orthodontic treatment may take longer for adults than for children. Although treatment length varies for each person, the average length of adult orthodontic treatment is around two years since aging tissue can take longer to adjust to the teeth's new positions.
Benefits of Adult Orthodontics
Orthodontic treatments are rising in popularity because of the many benefits they provide. Straight teeth not only look good but can also boost self-confidence. A 2016 study found that orthodontic treatment resulted in a significant increase in self-esteem and quality of life and provided psychological benefits for adult patients.
Besides improved appearance and psychological benefits, adult orthodontics can also improve oral and overall health. Orthodontic treatment ensures that teeth are positioned correctly for optimal performance so people can bite, chew, speak, and smile with confidence and without discomfort. This alignment also means that future dental treatments will be easier to perform, such as teeth cleaning, whitening, and prosthetics placement.
Call Us Today
If you are an adult interested in enhancing your smile's appearance and health, adult orthodontics may be a good option. Our orthodontist and team at Hawthorne Orthodontics can help. Call us today at 310-921-8333 to learn more about our services or schedule an appointment.
Frequently Asked Questions
What orthodontic problems can adults have?
Adults can suffer from the same orthodontic problems as children and teens. Orthodontic treatment can help align and straighten crowded or gapped teeth, overbites or underbites, open bites, crooked teeth, and more. Not every type of appliance is suitable for correcting every kind of orthodontic problem. Our team will determine the right option for each patient's needs.
How should I take care of my orthodontic appliance?
Different orthodontic appliances will require different care methods, from soaking clear aligners to cleaning around brackets. However, it is important for all people receiving orthodontic treatment to maintain proper oral hygiene and brush and floss regularly. Patients must also attend regular adjustment appointments to ensure that proper progress occurs and the appliance works correctly.
How does orthodontic treatment work?
Orthodontic treatment utilizes mechanical appliances to pressure teeth and push teeth into the desired position. When a tooth receives pressure, its root presses against the underlying alveolar bone and causes a portion of the bone next to the root to dissolve. This allows the tooth to move into the correct position.
Is orthodontic treatment uncomfortable?
Moving teeth is never completely free from discomfort or irritation since it involves shifting teeth through bone. After the placement of braces or after certain adjustment visits, teeth may be sore for a few days. The actual placement of bands and brackets on teeth does not hurt, and patients can manage any discomfort with over-the-counter pain medication.
Will orthodontic treatment interfere with my daily activities?
Although it may take some time to adjust to an appliance, orthodontic treatment should not interfere with most daily activities. People involved in high-contact sports or activities should wear a mouthguard to protect their teeth and mouth. It is also important for people to make adjustments to their oral hygiene routine to maintain clean and functional appliances.
Recent Posts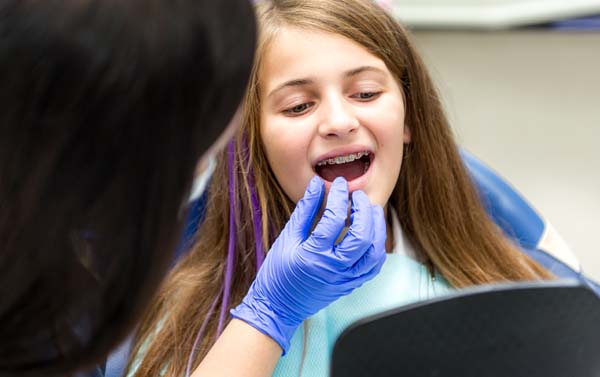 A pediatric dentist works with your child to treat their condition and teach them the importance of oral health from a young age. Misalignment and malocclusions are quite common in children and adolescents as their teeth develop. There are several reasons a child might require braces. Treating these conditions early on can help guide their…